Attend via the FMC Event Platform!
Have you registered via Eventbrite? If not, please register here.
After a few minutes, log in to the FMC Platform using the same email address you just used to register on Eventbrite.
Set up your password.
Customize your profile – We'd love to see your headshot and bio!
Start creating your personalized agenda!
We suggest you use your web browser to attend sessions
Connect with attendees, speakers, and sponsors via the mobile app
Access to the Event Platform will be available on October 7th.
Get the full P|PW Online experience!
Build your personal event agenda
Book meetings with sponsors
Attend the Sponsor Lounge
Engage with speakers
Connect with fellow attendees
View session recordings post event*
*Attendees will have streaming access to recordings of all sessions for up to 90 days post-event.
Log in to P|PW Online Event Platform.
Click "Program" on the left-hand menu to view all sessions.
A "Join Live Stream" button will become active 15 minutes before the session starts.
For optimal viewing experience, we recommend that you watch sessions via your web browser.
Step 1: Log in to use FMC's Event Platform to Access Your Sessions
We will use the Event Platform in order to stream live sessions & interact throughout the event. You must log in with the same email used when registering on Eventbrite!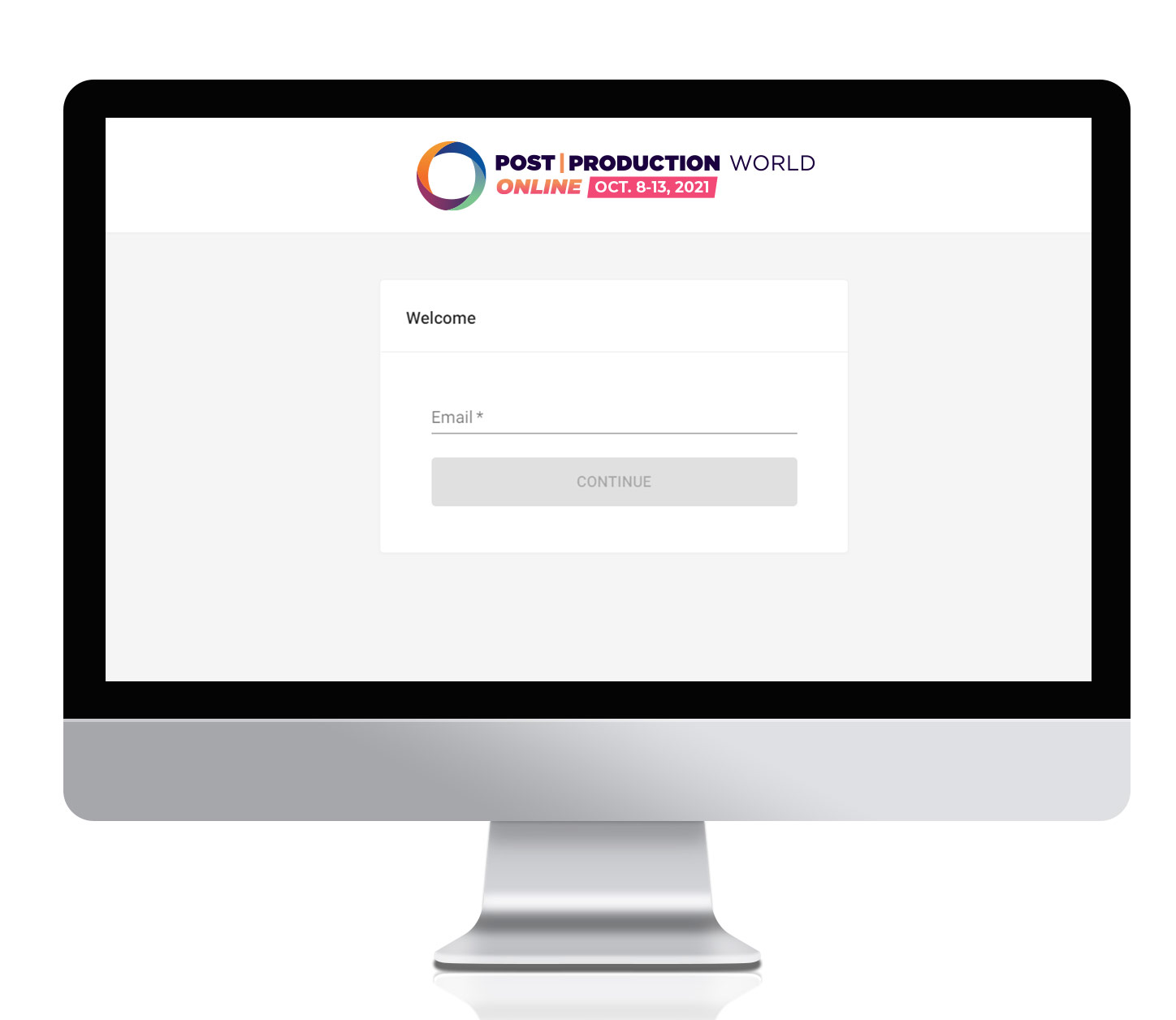 Step 2: Build Your Personal Schedule
View all scheduled sessions within the Program section of the event platform. 
Click on the plus signs to add sessions to Your Agenda.
You may also set up 5, 10, and 15 minute reminders for each session!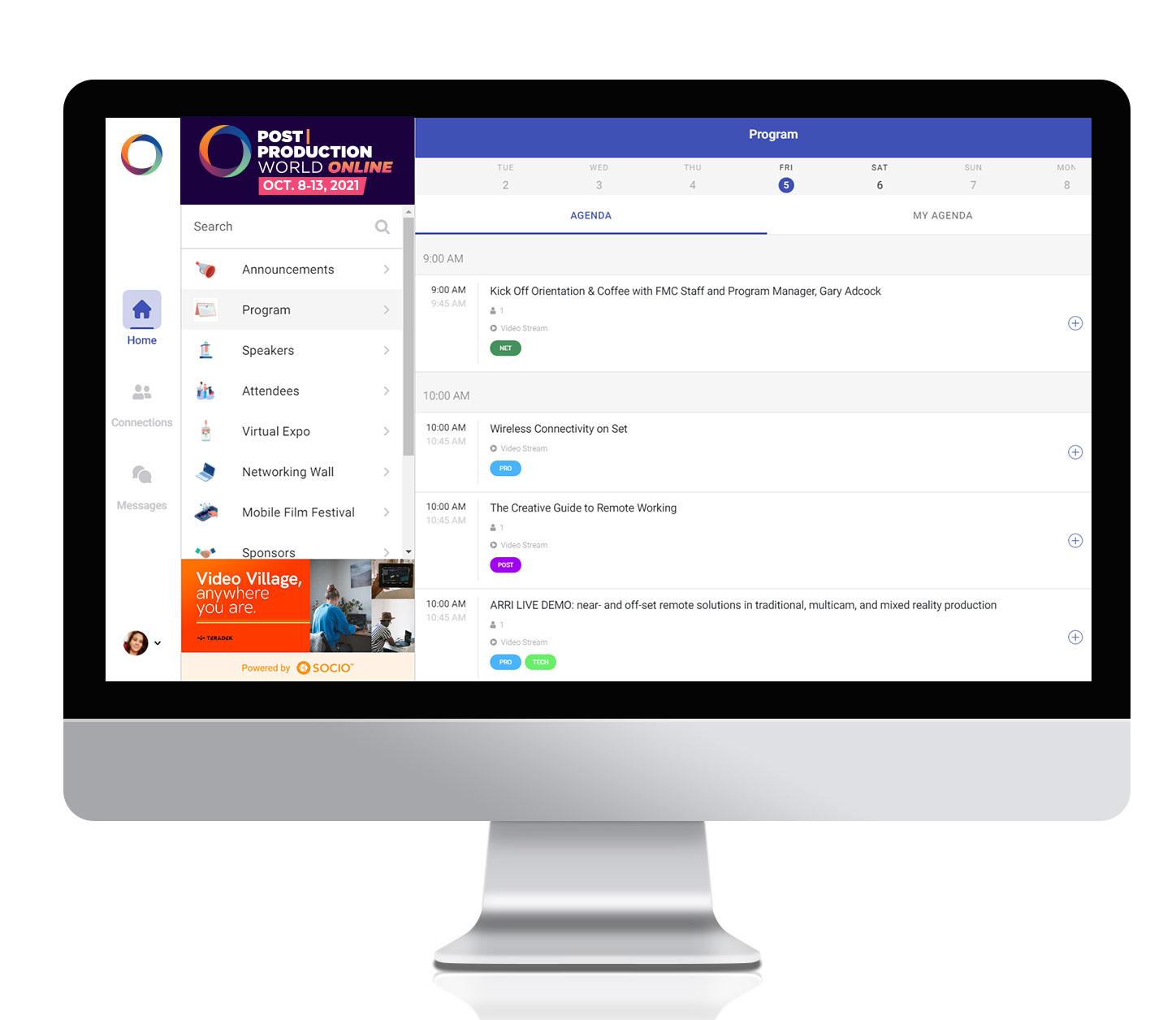 Step 3: Join The Live Stream
Click on each session to read the description and watch the livestream. 
Each session will have a Join Live Stream link 15 minutes prior to going live. You will be prompted to launch Zoom.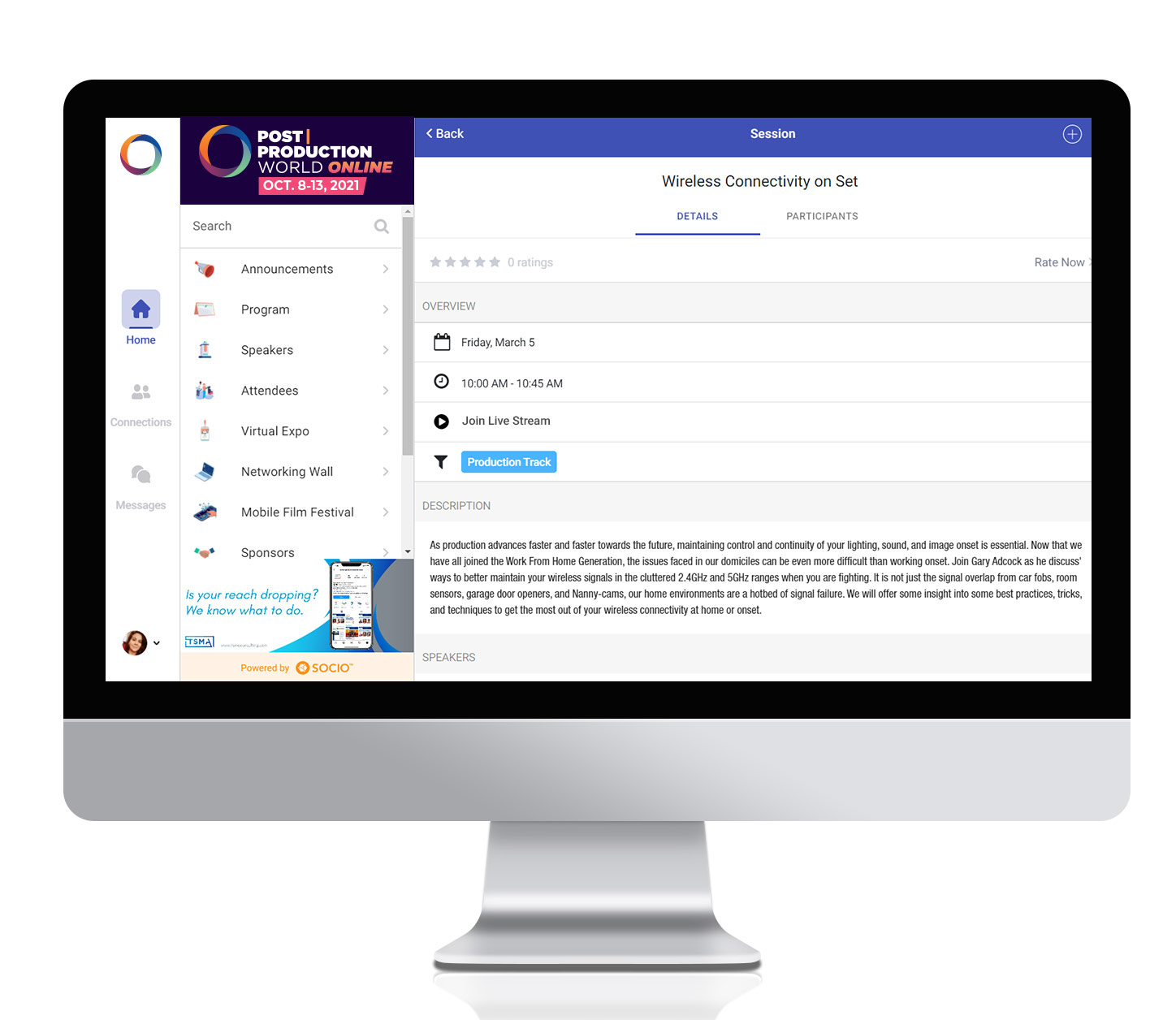 Step 4: Interact with our Speakers During the Webinar
Once you are in the Zoom webinar, feel free to chat and ask questions!
The Chat is available for everyone to see, so type in where you're from, or any technical issues you may have! An FMC representative will be monitoring the chat and will be able to assist you further. 
The Q&A is available for any questions you would like to submit directly to the speaker, on the educational content presented. 
Step 5: Connect with Attendees
Chat with other Post|Production World Online attendees directly within the app within the Attendee section of the platform.
Send a request to Connect to start a conversation.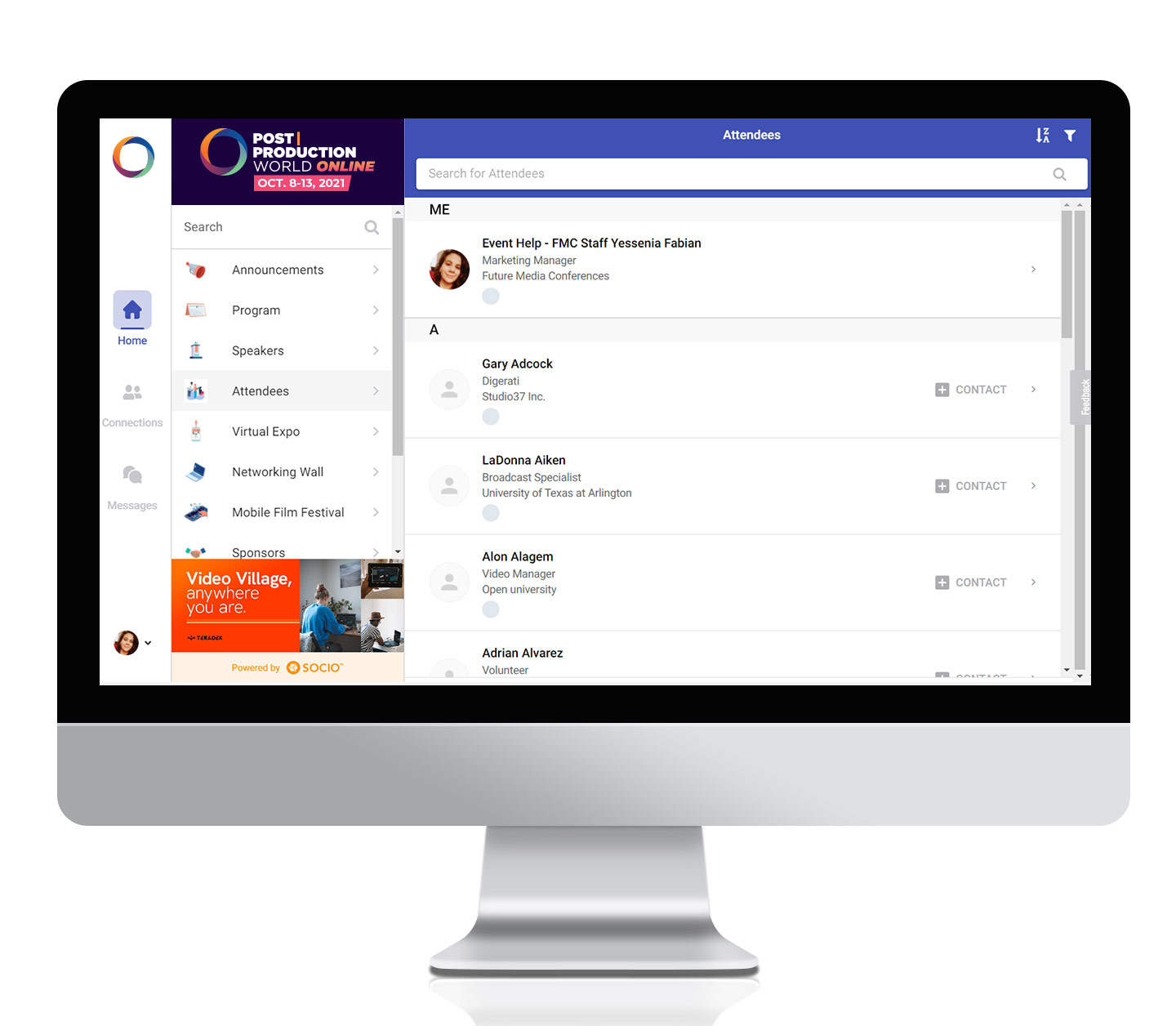 Step 6: Learn More About Our Speakers
Want to learn more about our production and post-production experts? 
Browse through the Speaker section of the platform to learn more about their work, businesses, and websites!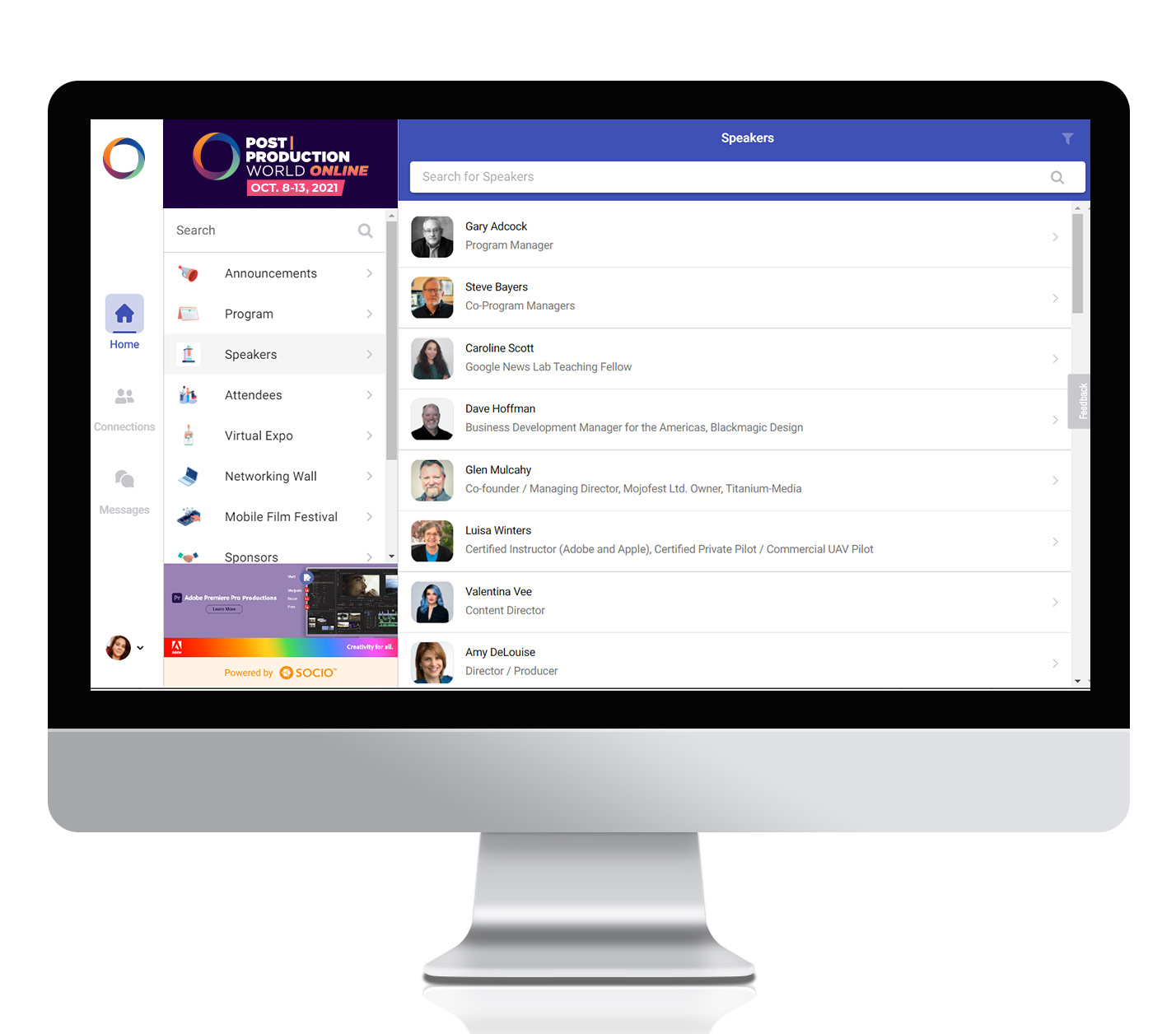 Step 7: Interact with our Sponsors!
View Sponsor Profiles within the Virtual Expo to learn more about each company. 
Visit the Sponsor Lounges scheduled within the program everyday at 2PM EST to engage with sponsors representatives, view live demos, and learn more about remote work solutions! 
Sponsor Lounges can be found as a session in the Program.
Post|Production World Online FAQ
What do I need to attend this conference?
All you need to do is to make sure you've registered on Eventbrite and have received a confirmation email. You will also need a reliable internet connection and browser to participate. Click here to test your internet connection.
The conference is live and presented on an interactive platform.
How do I attend virtually?
To attend the conference, login to P|PW's virtual platform via your web browser! Just login with the email you registered with! Have you registered via Eventbrite? If not, please register here.
How do I watch live sessions?
All live sessions are delivered via Zoom.
Once signed in to the event platform, find the session you want in the Program section.
Live session links will become available 15 minutes before the scheduled time.
How do I access recordings?
Recordings of sessions will be available for VOD pass holders only start on October 25. If you are not a VOD pass holder, you may purchase your pass here. 
Can I build my own schedule?
Yes. We encourage you to log in before the event to create your personal schedule. Within the event platform, you can add sessions to your own agenda and set reminders 5, 10, or 15 minutes before the session.
Can I attend on my phone?
You can download the mobile version of the event platform, though we do recommend using the web browser version when attending live sessions!
Mobile users should be able to access the join links by requesting the desktop site.
Please use the following links for solutions!  
Will I be able to ask questions to the instructors?
Yes. Our sessions will be fully interactive. Each instructor will have their own way of answering questions throughout the session. They might answer your questions as they come in via the chat box or reserve time at the end of each topic as not to disrupt the flow of the session. If your question still hasn't been answered, you can email eventhelp@fmctraining.com and we can help you track down what you need.
I want to stream the recording of a session I did not attend, is that possible?
Yes. While free registration provides you access to any session you would like to attend live, you must purchase the VOD add-on to have streaming access to recordings for 90 days to view on your own time starting October 25. You may purchase the VOD here.
How do I win raffle prizes?
Your registration includes automatic entry to raffle prize drawings. Our sponsors have donated thousands of dollars worth of prizes, and you could be a lucky winner. All prize winner announcements will be made during Sponsor Lounges and Evening Parties.
Can I record this on my computer?
No. Additionally, it's not necessary as streaming of recordings will be provided post-event.
What do I do if the instructor is disconnected?
If the instructor is disconnected at any time during the session, please sit tight while they reboot; it should not take long. You will not be disconnected from the session. Moderators and tech support will be available to answer any questions.
What do I do if I get disconnected?
Reboot your system, and once you are reconnected to the Internet again, simply use the URL to gain re-entry into the session, logging in as a guest.